MODEL LETTER TO POLICYMAKERS:
In response to inquiries from other scientists, we have prepared model letters (in English, Arabic, Chinese, French, German, and Spanish) that others are welcome to use to send to their Ministers and other policymakers requesting that their governments support Costa Rica, Ghana, Mali, Switzerland, United Kingdom of Great Britain and Northern Ireland, and Uruguay's draft UNEA5.2 resolution calling for an intergovernmental science-policy body for chemicals, waste and pollution.
We suggest sending these letters in early January 2022.
Please write to us at admin(-at-)ipcp.ch:
To let us know that you have sent your letter 

To provide additional sample letters to share.
FREQUENTLY ASKED QUESTIONS:
To whom should I send my letter?
Please send your letters to your Minister of Environment, Health, International Affairs, Prime Minister or President, Minister's support staff, policymakers in government ministries, and others who could be influential in establishing your country's position. Here are directories of  Member State's UNEP representatives, ministers and other focal points (by country).

Can I send a joint letter and if so, how can I find possible collaborators from my country?
To identify others who have indicated support for this initiative, please visit our list of signatories. You can also email us at admin(-at-)ipcp.ch, we will be glad to connect you with possible collaborators — currently we are aware of joint letter initiatives in Germany, Italy, Norway, Spain, and Sweden.
Participants at our December 15 workshop indicated that they will be sending letters in the following countries and we hope we can expand this list.
Should we ask others (including NGOs) in our countries to write letters?
Yes, please encourage other individuals and organizations in your country to write letters of support.
Who should send a letter?
Every letter counts!
What is the best way to send my letter?
By paper & post! To ensure your letter receives proper attention, wait until the beginning of January 2022 to send it.
What else can I do?
Please reach out to your colleagues, especially from countries not yet represented (see the gray area on the map below), and encourage them to sign-on in support of establishing a global science-policy body on chemicals and waste.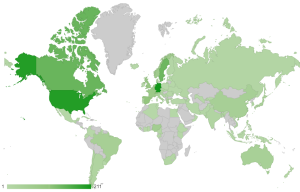 IPCP WORKSHOP RECORDING:
Presentation Slides (December 15, 2021)